Impact Of Hoarding on Living Conditions
8/10/2017 (Permalink)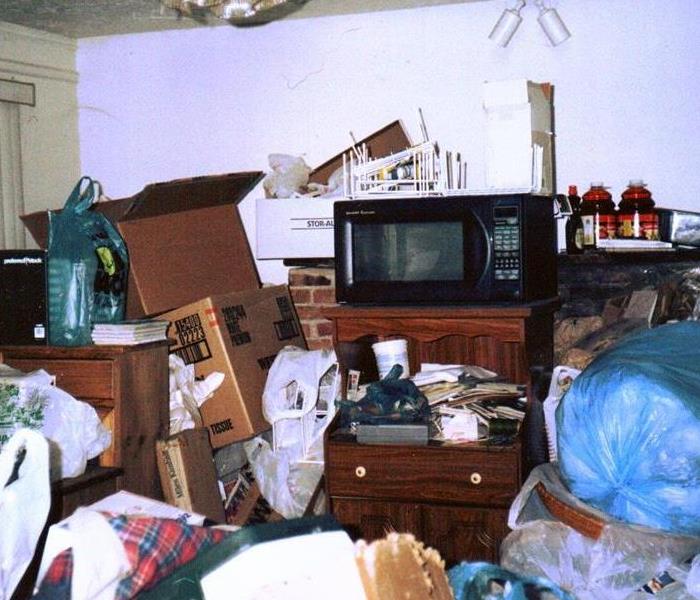 Aside from the superficial problem of excessive storage of unnecessary items, hoarding has far graver implications. The amount of possible biohazards in your household can surprise you. The compulsive habit of hoarding can put the hoarder along with other family members in a dangerous situation. The kinds of items that you hoard determine the level of threat this accumulation presents to the occupants.
Aside from newspapers, boxes and clothes, people can go on to save items like food, chemicals, medication, human or animal excrements along with various flammables items. These practices are literal biohazards and must be dealt with accordingly. It's not just hoarders that are in trouble, by the way; dog owners might be too lazy sometimes to walk their dog out resulting in the dog having to go within property premises. People can laze off taking out the garbage in a timely manner too. Let's review some of these detrimental biohazards that are a direct result of our ignorant behavior and pose a threat to us.
Expired Pharmaceuticals
The common practice of keeping medicines for long periods is something we've all come across at some point. The expired dates of these prescribed drugs may have been long gone during the storage and can become a health threat, especially if children are present, because it's still lying around the house. Stale chemicals can also catch deadly fires and are a danger not only for the household's occupants but for the neighbors as well.
Flammable items
Collecting boxes, magazines and newspapers can also serve as very good burning material and incase a small fire nearby is ignited, these materials will rapidly catch fire and eventually burn the whole place down. Avoid overcrowded spaces. Make sure you're heating vents are not obstructed by any paper material. Throw out all the expired drugs and chemicals.
Disease transmission
Did you know that communicable diseases can survive un-incubated, outside the body for months? Whether you don't take your pet out so he can do his business or have a serious rat problem, these factors can contaminate surfaces in your house with pathogens. All it takes is contact with the infected surfaces for you to catch something bad. In indoor spaces, especially the ones with ill equipped ventilation, these harmful bacteria and viruses can stay in the air indoors and thrive. Once one family member becomes infected, the rest are bound to catch it as well.
Impure air
Clutter obstructions can cause the accumulation of harmful particles suspended in the air. Breathing in this debris can cause bronchial inflammation and induce an allergic response. You have to watch out for the mold, chemicals, bacteria and other foreign bodies in your indoor air.